Full Range Of Cleaning Services in Sydney
With over 10 years' experience, we offer a full range of gutter cleaning services in sydney and repair services for both residential and commercial buildings, such as: clearing blocked gutters and downpipes, repair of sagging gutters and leaking joints, replacement of rusted gutters and downpipes, whirlybird installation, solar panel cleaning, skylight cleaning, tree trimming and general roof repairs in Sydney.
GUTTER CLEANING: Starting from $150.
WHIRLYBIRD INSTALLATION:
Starting from $250.
ROOF REPAIRS:
Starting from $180.
TREE TRIMMING:
Starting from $110.
SOLAR PANEL CLEANING:
Starting from $15 per panel.
Need Gutter Cleaning?
Request a quote today!
When it comes to gutter cleaning, clearing the choked downpipes, and opting for an experienced Gutter cleaner to look after, it leaves homeowners puzzled. Gutter cleaning in Sydney is the common solution for all your residential and commercial problems drainage problems.
The excellent services of our locally owned gutter cleaning business adequately fit all the standards of expertise.
With expert and trained technicians, Gutter Cleaning Eastern Suburbs has taken delight in serving customers for more than 10 years. Our company is fully licensed and insured to overcome all your problems and burdens.
Gutter Cleaning Eastern Suburbs & Western Sydney
First Choice Guttering Services provides professional gutter cleaning in eastern suburbs and western Sydney. All of our employees are highly trained and experienced, and we are fully licensed and insured, so you can relax knowing you are in good hands. Gutter care should be performed at least twice per year and even more often if your property has a great deal of trees. As a busy homeowner, we know gutter care is probably at the bottom of your list. Which is why we want you to let us handle this for you.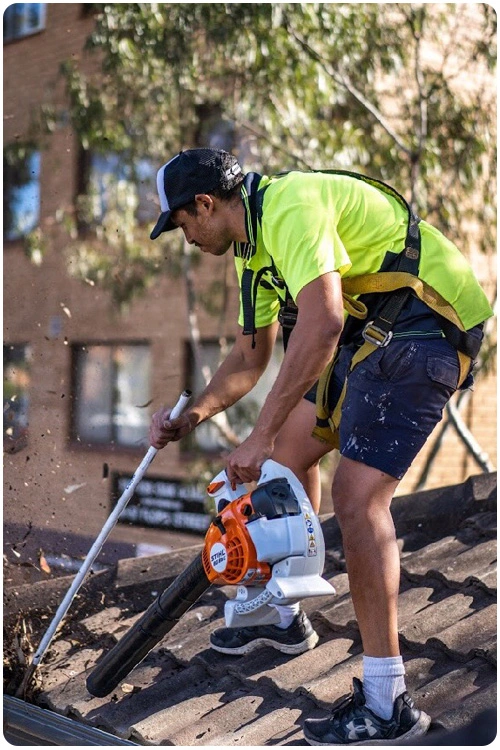 WANT TO ENJOY THE PROFESSIONAL GUTTER CLEANING SERVICES? FIRST CHOICE GUTTERING SERVICES IS HERE TO GIVE YOU AN INTUITIVE GUTTER CLEAN & REPAIR EXPERIENCE
We have a proven track record of customer satisfaction, offering reliable support for both residential and commercial properties. Whether you're dealing with issues like blocked drainages, need downpipe replacement, or installation, as well as roof repairs, sagging gutters, leaking joints, or rusted downpipes, we've got you covered in Eastern Suburbs and Western Sydney.
At "First Choice Gutter Services," we provide a wide range of services to tackle complex guttering problems often associated with tree-rich areas. Beyond gutter-related solutions, we offer services like solar panel cleaning, whirlybird installation, tree cutting service, skylight cleaning, and general roof repairs throughout Sydney. Our team members are experts in working at heights, equipped with secure tools and advanced safety training. We specialize in safe, efficient, and speedy gutter cleaning procedures, ensuring the safety of your property. Gutter Cleaning Sydney delivers services that are both cost-effective and time-efficient, making us your trusted experts in gutter cleaning and repairs for homes, Strata buildings, workplaces, and trade areas.
WHY CHOOSE THE FIRST CHOICE GUTTER SERVICES?
The reputation of First choice gutter services is all due to our team of professional gutter technicians. Our crew comprises skilled gutter cleaners from your local community. They are positive, hardworking, dedicated individuals, who are passionate about their job, and always strive for satisfactory services. When our skillful gutter maintenance technicians visit, you'll recognize your matter is in good hands. They genuinely care for the condition and maintenance of your property just the way you do. All our technicians are professionally trained and experienced to ensure efficient and safe house maintenance services. Our service will leave your home maintained and you satisfied.
Our team of professionals is always there to serve you at your single call. To examine how fast our response rate is, give us a call or send us a message, request a free gutter maintenance quote, book with us, and put us on a test today. We guarantee that our response time will leave you amazed. Our skilled workmen will be there to clean your gutters, repair the broken downpipes, and solve all the maintenance problems within 24-36 hours. Just book with us, and take relief, as your headache is now in the safe hands of experts.
Compliant with WHS regulations
The Best gutter cleaning in Sydney has much concern about the workplace health and safety regulations. All our technicians have gone through various height safety courses to ensure efficient, thorough, and safe house detailing. Their skills and expertise ensure that we serve you without any incident. Our skillful technicians can securely work and maintain your property on the height of up to 4 stories by installing a safe roof access system and anchor points for tiled and metal roofs. We use several safety products and height safety strategies for end-to-end security. Our quality work ensures a thorough and efficient service with maximum safety.
We are proud to have been in the business for over a decade. We've gained a lot of experience during this time. We're happy to offer our services to you, and that's how our family keeps growing. Our hardworking professionals have the knowledge and skills to provide a wide range of home maintenance services at fair prices. We're dedicated to delivering great service and quality results. When you choose us, you'll see how experienced professionals get the job done. Our extensive experience ensures our services meet your high standards.
FCGS  is your all-in-one solution for gutter repairs, downpipe replacement, and a range of home maintenance services, all offered at affordable rates.  In a market crowded with budget gutter cleaning contractors, First Choice Gutter Services distinguishes itself through its professional services, providing quality work at competitive rates across the city.
Our outstanding service speaks for itself, making our rates exceptionally reasonable. For a precise understanding of our pricing, simply get in touch with us. You can reach out to us via phone or leave a message, and we'll be happy to provide you with a free quote.
Every successful business begins within a limited network, and our journey is no exception. Our gutter cleaning company was initially established in specific areas of Sydney. Over time, we accumulated valuable experience, earned the trust of countless customers, and expanded our services to cover every corner of Sydney.
Today, we take pride in serving both the Eastern Suburbs and the Western regions of Sydney. Our commitment to providing the best gutter clearing and inspection services in Sydney remains steadfast, and we're here to serve you right at your doorstep.
First Choice Gutter Services is there to solve your maintenance issues, to protect your house foundation, and to care for your home foundation. In your busy routine, you can contact us and ask for a free quote. You can give us a call or drop down a message or fill out the form above. After contacting us, relax and pat on your back as you have reached the right site. Our team will contact you at the earliest and will serve you quickly and efficiently. That's how we bestow our valuable services and solve the issues of our customers in a hassle-free manner.
"First Choice Guttering Services" prioritizes the well-being of our customers and crew. To ensure health and safety, our team strictly adheres to WHO-recommended Standard Operating Procedures (SOPs). We maintain social distancing, work outdoors, process contactless payments, and document before-and-after photos to ensure customer satisfaction.
Rest assured, our commitment to high hygiene standards and top-quality work will never disappoint. We excel in customer service, offer efficient contactless cleaning, and are dedicated to resolving your concerns promptly and fairly.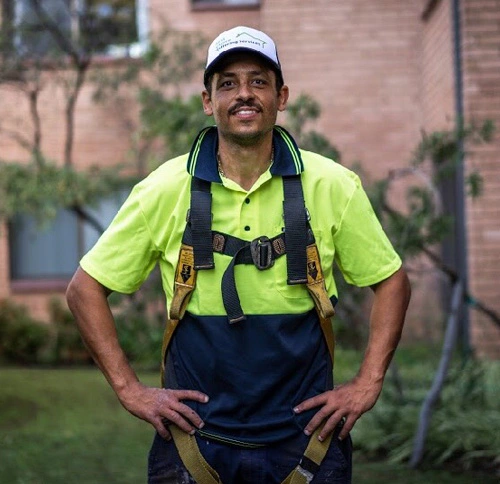 We're Prompt & Responsive
Every year, homes in Sydney shed thousands of gallons of water, which, if left uncontrolled, can seep into your home and damage its foundation. This is where efficient gutter and drainage systems play a vital role, ensuring your house remains safe from water damage.
However, gutters often get clogged with debris, hampering their functionality. Avoiding gutter maintenance can lead to the gradual accumulation of heavy debris, resulting in high-cost and high-hassle damage to your home's foundation. Gutter cleaning is a crucial but often overlooked task in home maintenance.
At "First Choice Gutter Services", we are Sydney's leading provider of professional gutter services, offering affordable rates. We are a one-stop solution for all your household needs. Our dedicated and well-trained team handles all aspects of Roof drainage cleaning, repair, and installation with precision and speed. Our Experienced Managers supervise our crew, and Quality Control Managers oversee their work, ensuring top-quality service. We pride ourselves on maintaining a flawless track record based on customer reviews.
We provide our customers with:
Best gutter cleaning service
Assistance throughout Sydney
Team of highly skilled individuals
Excellent customer service
We are working consistently to serve you with our dedicated efforts, sincere suggestions, and positive outcomes. Our broad range of gutter care, repairing, and installation services Are professional and skilled all the way, the ones you can trust.
Your Trusted Choice for Gutter and Solar Panel Cleaning in Sydney: Safe, Damage-Free Solutions
Living in a fast-paced modern era can make maintaining gutter systems and drainage challenging. That's where First Choice Gutter Service steps in, offering a comprehensive solution. Our dedicated team specializes in unblocking gutters, replacing sagging downpipes, addressing minor roof issues, and resolving damp problems. We simplify roof maintenance, provide expert gutter installation, offer tree-trimming services, and prevent home foundation damage. Our services are guaranteed and affordably priced, ensuring your peace of mind.
Tim And Liz Bowland
2023-02-18
Ben was punctual, helpful with explaining what was causing the leak in my roof and after today's huge storm his work stood up for itself. I have no hesitation in recommending his business.
Extremely professional; excellent work. Lovely man;will definitely use a gain and highly recommend
Gutter repairs and cleaning
Great job from Benji and the team, very happy with the job done. Would definitely recommend and will use again
Steve Skleparis
2021-05-29
Great quality and very professional
I have replaced rooftop tiles and cleaned gutter through First Choice Gutter Services. They have done amazing job in timely manner. I am satisfied with their skill, professionalism and customer service. Thank you Ben.
They came to our house promptly, nothing was a trouble. They were highly efficient and got our gutters cleaned and reattached where they were falling down all within 1/2hr. Would highly recommend
Teriza Nematalla
2020-04-27
What a gem Dan was!! He was so prompt to get back to me. Was able to go to the property I advised him about the same day and get the job done as promised. He was very polite & pleasant to speak to on the phone. He gave me a heads-up of when he will get there and sent me before and after pictures of the work done. Definitely very happy with how it worked out. I will by all means recommend him and use his service again in the near future. Thank you Dan
contact windows
2020-01-31
Brilliant service, excellent communication. Super thorough and went above and beyond what was asked for and quoted on. Would highly recommend Ben and First Choice Gutter Cleaning
Ben provided excellent sevice and kept me informed when he would arrive to quote and complete the job.Reccomend his services without hesitation. ..